From its inception in 1996, NCAC's (National Career Academy Coalition) mission has been to provide collaborative support and resources for existing and emerging career academies.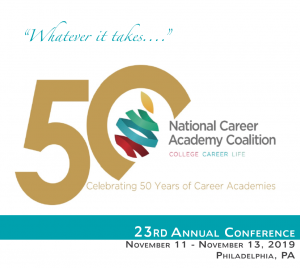 The Academies @ Roxborough High School was recognized at the NCAC's (National Career Academy Coalition) 23rd conference held in Philadelphia.  Teachers from as far as Hawaii attended the conference and visited Roxborough HS to tour our programs first hand.  Roxborough High School offers college and career-connected educational opportunities for all students. The school is led by Principal Dana A. Jenkins, who is, herself, a graduate of the Philadelphia School District and has worked in the school system since 1997.  Although the students come primarily from the Roxborough, Manayunk, and Germantown sections of Philadelphia, the school also serves a significant number of students from all over Philadelphia who are attracted to Roxborough by its exceptional academies and CTE programs.
Roxborough was also honored to be recognized for receiving National Model Status for their Academy of Health Sciences & Research and received the Jeffery N. Stein Award for best transition for an Urban High School to the Academy Model.
Roxborough was also honored with the Henk Koning Exemplary Partnership Award for Mr. Steve Rauscher our Academy of Health Sciences & Research partner for exemplifying a true working partnership. Together with administration and teachers Mr. Rauscher works to address concerns, solve problems, and create positive solutions and outcomes for the academy, including student/teacher work placements, grant acquisitions, curriculum design and other initiatives.
Roxborough is an All-Academy high school. This term means that Roxborough enrolls every student into their choice of a Career Academy which may be a Career and Technical Education (CTE) program or a career-themed Academy.  The All-Academy structure provides students with an experience that infuses their career electives with academic course work, preparing them to succeed in college, career, and life.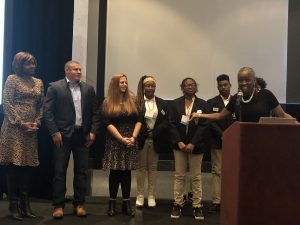 Currently, Roxborough has three career academies in addition to the Freshman Academy, which are identified below with their corresponding industry pathways.  The Freshman Academy is designed to help 9th graders transition from middle school to high school. The teachers focus predominantly on freshman classes where they are sensitive to the needs, challenges, and successes that freshmen may encounter.  A mandatory Freshman Seminar course is designed to support students in skills such as time-management, organization, college preparation and self-advocacy.
The Academy of Visual Arts Production is composed of two different pathways: Film & Video Production and Web Design.  In web design, students learn to write code in order to design and create well developed customer web pages.  They are also able to earn Adobe Illustrator and CertiPort.  Film and video students learn and master professional camera and video techniques, and frame writing.  Students are able to earn Adobe Premier, Premier Pro and Final Cut Pro certifications.
The Academy of Business Technology & Entrepreneurship is also composed of two pathways: Entrepreneurship and Sports Marketing.  In these pathways, students follow a three-year sequence of Business and technology courses in which they acquire the knowledge and skills that are necessary for success in both college and the world of business.  Business students explore a curriculum that includes keyboarding and word processing, marketing, office skills, business management, business communication, digital literacy, accounting, personal finance, and entrepreneurship.  Students are able to earn Microsoft Word, Excel, and PowerPoint certifications.
The Academy of Health Sciences & Research is composed of two additional pathways: Biotechnology and Kinesiology.  These pathways prepare and empower scientifically literate graduates who demonstrate the critical thinking and problem solving skills necessary to confront issues that impact human health and the environment research.  The Biotechnology pathway encompasses a three-year sequence designed to support students that are interested in bio-medical science, research and applications.  Students also earn lab safety, OSHA and Mental Health First Aid certifications. Kinesiology students develop knowledge and skills they will need to pursue careers in sports, fitness, and exercise. This program includes instruction in human anatomy and physiology, exercise science, nutrition and the management of sports related programs and facilities.  Students are able to earn Physical Trainer and Mental Health First Aid certificates. Several of our students are also STEAM Scholars which is supported by the in a partnership with Health Workers Union 1199C. We have MESA competitors who have built and programmed a prosthetic arm. Our team of teachers work together to plan cross curricular PBL's such as the current Movement Analytics  project between Kinesiology, math and social studies
All of our pathways compete in local, state and National competitions and have repeatedly placed at top levels in all areas.  Our competitive spirit drives our staff and students to pursue excellence.