Seniors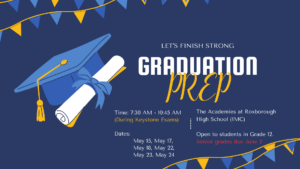 During the days of Keystone Exams, we are hosting Graduation PREP. This is open to all seniors who need to get caught up with assignments, credit recovery, certifications, and more. If you are not on track to graduate, and need to get caught up, or if you simply want to mark a few things off of your to-do list in time for graduation, this is an opportunity for you.
Join us each day during Keystone Exams (i.e. May 15, May 17, May 18, May 22, May 23, and May 24) in the IMC Computer Lab.
This is open to all students in Grade 12. Senior grades are due June 2, 2023.
---
SENIORS, see Dr. Tolliver or Mrs. Worley for more information, permission slips for the luncheon and tickets for the prom.  Remember, Violations of the Student Code of Conduct, Senior Contract or Failure of two or more classes by May 9th can prevent participation in Senior activities including prom!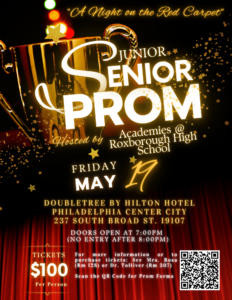 ---
---
Seniors, it's your last year in high school, you need to take full advantage of every opportunity, even the fun stuff. The Class of 2023 Activities Guide is a resource for all the activities leading up to graduation.  CLICK HERE or on image below.
---
Senior Capstone and Service Learning Project
The Senior Capstone and Service Learning Project is a research-based assessment and service learning documentation required for graduation. There are five (5) major components of the Senior Capstone and Service Learning Project. These include an argumentative research paper, career research assignment, portfolio, 10 hours of required service learning, and an oral presentation to be evaluated by a panel of evaluators
Topics are suggested in the Senior Project Resource Guide .  Students will work with a mentor, English, and/or CTE teacher to select a topic that is best fit. Students are responsible for finding a teacher to be a mentor. The mentor teacher will be required to read one draft of a student's essay only, and help add or delete content (as indicated on page 14-15).  If a mentor is willing to do more, that is fine.  English teachers will edit other drafts for spelling, grammar, format, and further support the writing process.
Note. For added convenience, a Senior Project Information Slide Deck was developed. Click the link in order to access https://tinyurl.com/SeniorProjectPPT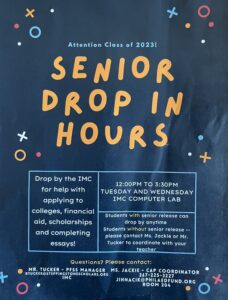 Senior Drop-In Hours
Portfolio support drop-in sessions are available in the IMC every Tuesday and Wednesday from 12pm – 3:30pm.
Click HERE to access the flyer.
---
Senior Activities and Dues
It seems like a matter of weeks, each member of the Class of 2023 began their final year at The Academies at Roxborough High School. It has taken hard work, sacrifice and dedication for each senior (and guardians and families) to reach this important milestone. In celebration of our seniors and to kickstart a reset, we are having a senior kickoff and pinning event to recognize both students and those who have supported them along their academic journey. The date for this event is Friday, December 16, 2022, from 11am – 12pm. Seniors and Guardians are welcome to attend the event!  A full schedule of senior events and additional details are forthcoming.  Click HERE to access the most recently shared information related to senior activities and class dues.
---
Credit Recovery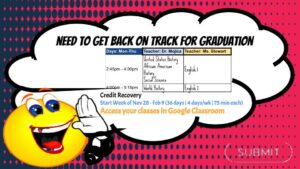 The Academies at Roxborough High School Credit Recovery Program provides students with an alternative method for completing courses required for graduation. This is a limited time courtesy in alignment with the school plan. This cycle of the program will begin the Week of Nov 28 – Feb 9 (36 days | 4 days/wk | 75 min each course). Each course is scheduled Monday – Thursday, from 2:45pm – 5:15pm (dependent on course).
Eligibility
Credit recovery is available to students who have not satisfactorily completed a course.
Students may earn up to two full credits in one cycle of the Credit Recovery Program.
Priority is given based on anticipated graduation date.
Failure to meet minimum attendance requirements and complete the required assignments will result in being removed from the course.
---
Saturday School
Saturday School starts Saturday, December 3, 2022!!! Click HERE for more information. If you miss more than the allotted days, you will be dropped from the program. You need this to graduate in June 2023. Failure to complete Saturday School courses will result in a move back to Grade 11 since you will officially not be able to graduate on time with your current roster. Thank you.