Academies @ Roxborough Teachers attend Conference in Nashville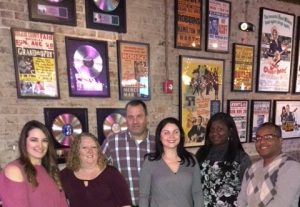 Teachers from the Academies @ Roxborough attended a conference in Nashville March 5 – 7, 2018.
Pictured from left to right: Rose Kalogerakis, Laurie-Jean Lawley, John Quirus, Kate Verica, Rosa Lasada, Teshome Sebhatu.
"The Academies of Nashville Study Visit demonstrates how Nashville has transformed its high schools into personalized learning communities that offer rigor, relevance, relationships, and readiness for all students."
"During the Academies of Nashville Study Visit, participants explore and learn about the strategies, structures, and tactics that are producing real progress in high school reform in Nashville. The agenda is structured to bring a high-level view of the systemic and broad-based transformation taking place in Nashville, including the extensive and deep engagement of the community in the effort, as well as tours of schools implementing the transformational model."
Various teachers from the Academies @ Roxborough have attended the conference over the past years to experience the full academy model and further its implementation here at Roxborough.  Teachers have found the experience invaluable in their teaching.