Film & Video Students meet Ken Burns
Mr. Siddiqui took the Film & Video students to meet Ken Burns this week.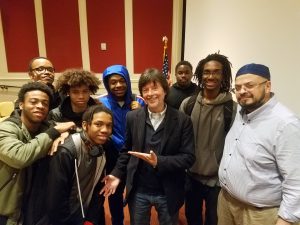 Ken Burns is an American filmmaker, known for his style of using archival footage and photographs in documentary films. His widely known most recent documentary series include The Roosevelts (2014), and The Vietnam War (2017). Burns' documentaries have earned two Academy Award nominations (each for 1981's Brooklyn Bridge and 1985's Statue Of Liberty) and have won several Emmy Awards, among other honors.
Mr. Burns developed a signature style of documentary film making in which he "adopted the technique of cutting rapidly from one still picture to another in a fluid, linear fashion [and] then pepped up the visuals with 'first hand' narration gleaned from contemporary writings and recited by top stage and screen actors", Erickson, Hal. "Ken Burns biography". All Media Guide / Baseline / The New York Times. September 22, 2011.