March Madness Final: Freshman Academy takes it!!
Article: Mrs. Arnold
Congratulations to the Freshman Academy team for becoming Roxborough HS Champions.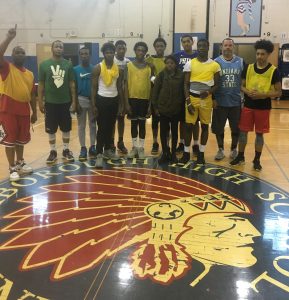 Has anyone checked on Mr. Q? I was quite concerned that his head was going to explode early in the game.  The cheap shot he gave to Ajamal Leake only added to my concern! But seriously, the freshmen fought an uphill battle to take down the steady hands of Daevon Davis-Walker, Tyson Harrington and Mr. Perricone.  The Final Score was 49-47- what a game! All of the Film and Video players should be commended for getting off to an early lead and keeping the pressure on until the end.  Mr. Siddiqui is so nice- he bought them pizza after the game! On the Freshmen team Mr. Rick managed to stay in the game despite being thrown around like a rag doll.  Three refs and no fouls called? Poor Mr. Rick! His steady hand was definitely an asset late in the game.  Even Sgt. Beadles hit the ground a few times.  His hustle did not go unnoticed though- Hooah!.  The freshmen student players took some time to warm up.  Many missed layups pushed Mr. Q slowly over the edge.  Omar Taylor helped his team by getting a ton of boards throughout the game.  Nyrieme McGriff continued to shoot despite Mr. McKenna's heckling at the mic.  Congrats to all 7 teams who participated this year.  A great time was had by all   Last but not least, thanks again to Sam and Solomon Johnson for bringing us March Madness and for harassing me, McKenna, Q and Dumsha for three months straight.  lol
Also, Let's not forget a special Thanks to Mrs. Arnold for all her work with the event!!