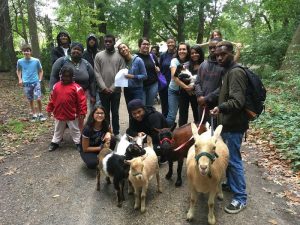 Students from the Academies at Roxborough attended the Philly Goat Project at the Agricultural Village at Awbury Arboretum in Germantown.  Mrs. Ragozzino accompanied a group of students who volunteered their time on a Saturday!
The Philly Goat Project currently includes miniature Nigerian Dwarf goats Ivy, Anthony, and Bebito, and mixed-breed goats Oliver and Oonagh. The goats offer therapy, visit schools to teach students about nature, munch on unwanted invasive species in people's backyards, and provide other ecological experiences in Philadelphia. The goal, according to Krivit, is to increase community engagement by bringing this agricultural experience to an urban landscape in an environmentally responsible way.
The goats' favorite activity is still eating — they can devour up to 25 percent of their body weight per day.
"This Christmas, we're going to hold a Christmas-tree-eating contest for them," Krivit said. "We'll time them and see who finishes a Christmas tree the fastest."  So if you interested stop by and visit!! You may find some of our students there as well!