Biotechnology Students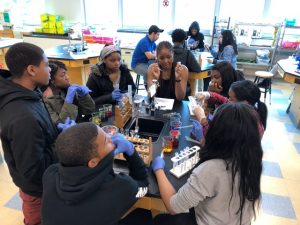 Biotechnology is a great course for students interested in working in a variety of medical disciplines, such a as Hematology. The juniors visiting Drexel University's  Medical School Simulation lab where they are learning how to properly take blood from a patients arm!
Biotechnology prepares students how to work in a laboratory setting using common laboratory equipment and performing common laboratory experiments.  Students also get experience with DNA Gel Electrophoresis right here in our own labs.
Bioeyes from the University of Pennsylvania visits us yearly to work on experiments with Zebrafish!  Bioeyes is a hands-on biology unit using live zebrafish and spanning five class periods over the course of a week.
Our graduating seniors are now certified Youth Mental Health First Aid Responders!