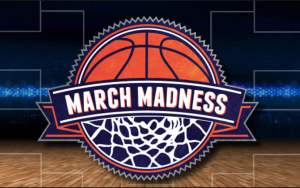 A March Madness tournament was organized by Deputy Commissioners, the Johnson brothers, with League Commissioner Mrs. Arnold and Mr. Vance, our Official Sportscaster.  March Madness Round One had eight Academy teams competing: Four teams competed on Tuesday, Feb. 27th after school (Freshmen vs. Freshmen and Biotech vs. Kinesiology)  & Four teams competed on Wednesday, Feb. 28th after school (Business vs. Business and Film vs. Web)  The games were well attended by staff and students.
The Elite 8 is in the books!  Another great turnout by staff and students and two very competitive games, including an overtime game.  Business (Heleniak) beat Business (Fesnak) 54-50 and will advance.  Web Design pulled out the win over Film and Video in overtime.  Final score was 48-46.
The Final Four games were played March 16th: Kinesiology (#2 seed) vs. Business- Heleniak (#3 seed) and Freshman Team- Quirus (#1 seed) vs. Web Design (#4 seed)
The final four was attended by staff and students cheering the academy teams on, the ambassadors ran the time clock and scoreboard.  Halftime was just as much fun with concessions run by Mr. Dumsha and other teachers and a Half court shot contest.  Students and teachers lined up attempting to make the trick shot and one was victorious, Yasir Lightly, pictured below receiving his prize from Mrs. Arnold and Mr. Vance although the bragging rights are probably the greatest prize.  Thanks to Mr. Nori, Mr. Perricone, Mr. Mckenna & Mr. McGavin for volunteering to referee the games.  The final game will be played next week with Kinesiology beating Business and Web Design winning an upset against the Freshman advancing to the final!  Will Kinesiology continue to dominate or will Web Design be the Cinderella of our Academy Bracket?