May 10th return to In-Person instruction for 9th grade students who opted in.  This will be the schedule for all Virtual students as well.
PLEASE NOTE: Monday is an A-day, Tuesday is a B-day, Wednesday is the Half-day, Thursday is an A-day and Friday is a Full B-day.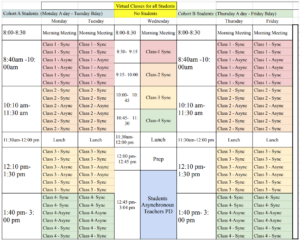 May 10th – June 11th Schedule to Download PDF CLICK HERE
---
The End is Near!  Here are the May and June Calendars!
In Person Instruction for 9th grade and CNS Students begins on Monday May 10th,  the week of May 3rd through May 7th remains virtual for all students.  Please note that the half days have been moved to Wednesdays starting May 10th to accommodate the in person schedule.  Stay tuned here and on our Instagram page for the new time schedule.  Academies @ Roxborough students will remain on the 8:00 am to 3:04 schedule, if there are any changes to your child's schedule due to transportation families will be contacted directly.
---
Are you interested in Summer Enrichment?
Parents can get more information and register using the links provided in the document below.
Students entering 9th and 10th grades
Students entering 10th, 11th and 12th grades
---
Students Enrolling in the Hybrid Model for Phase III
The school District has opened hybrid learning to 9th grade and complex needs students beginning on May 10. If you have a student in the 9th grade or with complex needs and have selected the hybrid option, we were pleased to learn that you decided to opt into Roxborough High School's hybrid learning program.  We want to make sure our students, and staff, are safe.  COVID-19 testing is one part of our health and safety plan. The consent form for COVID-19 testing can be filled out online by clicking HERE.  Filling out the form online will send the form to the School Nurse and the School Principal after you click the submit button.  All students who are returning to the building must have a signed consent for COVID-19 testing on file in the office of the School Nurse before entering the building.
We look forward to welcoming our students back and wanted to remind you to fill out the Consent for testing and return it to the School Nurse if you have not submitted it online. We look forward to seeing you and our students soon! 
Online consent form.  CLICK HERE
Download a paper copy of the consent form. CLICK HERE
---

Academies at Roxborough 9th grade Academy and Future Class of 2024!!  Come join us for a Meet & Greet on May 7th from 12:30 – 2:30.
---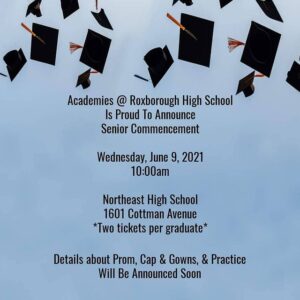 Exciting News for Seniors!!!
Graduation will be in person this year and  will be on Wednesday, June 9th, 2021 at Northeast High School.
Keep Checking the Class of 2021 Google classroom for updates and more information!!
---
Hybrid Learning Plan Phase III Rollout Announcements
For Phase III, students in the following groups will be able to opt into the hybrid learning model, beginning the week of Monday, May 10, 2021:
all students in grades 6-9 who have not yet returned, and
students with complex needs in grades 10-12.
The Phase III Learning Model Selection Survey will open on Tuesday, April 20th, and close on Tuesday, April 27th.
Please read through the following resources to familiarize yourself with the plans
Additional information is available on the school district website and all links can be found in the yellow band at the top the page.
---

Academies @ Roxborough High School is Happy to Announce Dr. Christopher Shaffer as our new Principal
April 13, 2021
Dear Roxborough Families –
I am writing to share an exciting update. We have identified the next principal for Roxborough High School!
Dr. Chris Shaffer was recently offered the position by Superintendent Hite and Dr. Shaffer has accepted. Dr. Chris Shaffer has been serving as the Acting Principal since August 2020. In that role, Dr. Shaffer has been able to learn about what makes Roxborough unique and special, lead during this unprecedented school year, and work with the staff to begin planning for the return of students.
Beyond leading Roxborough as the acting principal this year, Dr. Shaffer went through an extensive selection process. This process included input from students, parents and staff, interviews with network staff, principal performance tasks with other leaders in the school district, an interview with the school community, and interviews with senior central office staff. Through that rigorous process, it was clear that Dr. Shaffer was the right leader for Roxborough High School.
As shared previously, Dr. Shaffer has been in education for 25 years and has a track record of successes. Dr. Shaffer was most recently the Deputy Chief, Office of Curriculum, Instruction, and Assessment within the School District of Philadelphia, a position he held for six years, where he worked closely with community organizations, universities, non-profits, teachers, school leaders, and others to improve student achievement while also providing more opportunities for students. Prior to working in the SDP, Dr. Shaffer held the positions of high school teacher, counselor, assistant principal, and principal. Dr. Shaffer is eager to welcome back our Roxborough students and families to in-person instruction once health and safety guidelines permit.
If you have any questions about the search, please don't hesitate to reach out to our Family and Community Engagement Liaison Ms. Victoria Trower. Ms. Trower can be reached at (215) 400-5865 and vtrower@philasd.org.
Over the next two months, there will be opportunities for parents to meet Principal Shaffer. The two opportunities are Thursday, April 15 from 5-6 PM and Friday April 16 from 11AM-12PM. Both events will take place on zoom. The zoom link is http://bit.ly/RoxboroughPrincipal.
Sincerely, Ryan Scallon
Assistant Superintendent
---
Please make sure you receive & are able to activate your P-EBT Card:
Check that Roxborough has your current mailing address
Check that Roxborough has your child's correct date of birth
You can check by logging into the parent portal or by looking at your child's latest report card, or speaking to any of their teachers.
CLICK HERE for complete information, FAQs and Contacts at Roxborough HS for further assistance.
---
Interested in joining RHS Track & Field???
Track practice has started, practice is today 3:15 at the RHS track.  Any interested track athletes need a physical and should complete this interest form. CLICK HERE
---
What is your Path at the Academies @ Roxborough?
What are your interests?
Do you like science, business, the arts, working with your hands?
Could your hobbies lead to a career?
Pathway Video Link (CLICK HERE)
---
What can I do during the Intervention Period at the end of the day??
Here is the Support/Intervention Block Schedule (Click HERE).  There are various offerings (college & career, counseling, school nurse, STEP, clubs, and tutoring) provided to students during the support/intervention block by our Support Team.  Students also have the option to visit their teachers for extra help and or make up work.
---
Accessing Report Cards
The steppers linked below will help families in accessing this real-time grade information for their students.
Parents/Guardians who do not yet have a Parent & Family Portal can register for one by visiting the Office of Family and Community Engagement's Parent & Family Portal website, linked here.
Here, you will find a stepper and a brief video that provides instructions on how to register, as well as other resources. If parents/guardians do not have a Parent & Family Portal they can still review their students' grades by logging in with their student and following this stepper to review grades and access report cards..
K8 Student Portal Stepper
MS/HS Student Portal Stepper
---
New Schedule for Virtual Learning
Please watch the message from our Principal to learn about the changes to our schedule for Virtual Learning at the Academies @ Roxborough starting on Thursday, January 28. 2021.  Friday Half-day schedule will remain the same.
---
Remember to check your school selection results!!
Starting January 15, 2021 at 5:00 PM, you will be able review your child's nominations and see which school(s) have accepted your student.
Please remember, you're NOT DONE YET!  There very important remaining steps to complete!!!
---
Best Wishes for a safe and restful Winter Break from the Academies @ Roxborough!
---
Dear Roxborough Family,
After hearing from extended family members, it is with a heavy heart that we relay the passing of Roxborough senior Aaliyah Holmes. Aaliyah was a bright, kind, and loving classmate and friend to many. Her smile lit up the room. She was part of Roxborough's Business, Technology, and Entrepreneurship Academy where she excelled in the classroom and had plans to become a writer someday. Aaliyah will be missed tremendously by her teachers, Roxborough staff, fellow classmates, and especially the Class of 2021.
Remote counseling and support services will continue to be available for all students, staff, and families throughout this very difficult time. We ask that members of our Roxborough family reach out to our support team for any assistance and support they may need by emailing any one of our support team members (clindquist@philasd.org, rballance@philasd.org, bbland@philasd.org  and llawley@philasd.org).  We also encourage you to speak with your child so that he or she may share with you any feelings they may be experiencing around this loss. Should you notice any unusual changes in your child's behavior or mood, please call or text 1-833-PHL-HOPE (1-833-745-4673) for free support and information.
On behalf of everyone at the Academies @ Roxborough High School, we offer our sincerest condolences to members of the Boone and Holmes families.
Sincerely,
Christopher Shaffer, Ed.D.
---
Check out our Honor Roll Students
---
Do you need Working Papers/Permit??? Click here for more information and Application.
---
Are you a Parenting or Pregnant Teen?  Need Help?
The Philadelphia ELECT program provides a comprehensive network of education, health and support services designed to assist pregnant and parenting students in completing their education and preparing for success after high school/GED.
RHS Philadelphia ELECT program
---
Need some Help with your Classes??  Peer Tutoring is Available… Click HERE for more information.
---
Interested in Playing Sports at RHS?? Click HERE
---
New Food Distribution Schedule!  Students or Parents/Guardians can pick up one meal box per student on FRIDAYS from 9am -2 pm at the schools listed HERE
---
Student schedules for Distance Learning.  Students must log on to Student Portal and Google Classroom to be marked present and receive grades.
Here is  a STEPPER to Help you LOG IN to INFINITE CAMPUS to see your ROSTER.
Student Stepper To Access Roster
Parent Resources Information  2020-21
---
Freshman Orientation Video
Click HERE 
---
Academies @ Roxborough High School Virtual Graduation Class 0f 2020
The Graduation will air tomorrow June 10th at 10am
Here is the link you can share with anyone but it will not play until 10 am tomorrow!!  GRADUATION 2020
After the premiere you will be able to watch it anytime over and over,  hope you enjoy it as much as we enjoyed putting it together for you!!  Congratulations Class of 2020!!
---
Academy Awards
Here are the links to all the Academy Awards!!
The Academy of Visual Arts Production (Web Design, Film and Video Production & Graphic Design)
The Academy of Health Sciences and Research (Biotechnology & Kinesiology)
The Academy of Business, Technology and Entrepreneurship (International Business, Business Applications & Business Finance)
---
Roxborough High School Social Justice Gallery Walk
In light of what happened to George Floyd and the response across the nation we want to provide you with an opportunity to take action. We recognize that you are grieving and mourning and have a number of feelings that you may be struggling to express.  Many people express their feelings through Art or the Creative Arts.  Roxborough would like to give you an opportunity to express your complex feelings and promote Social Justice through art, poems and social media posts. Get full details and guidelines HERE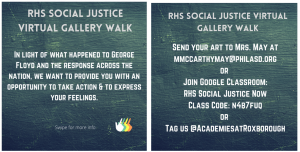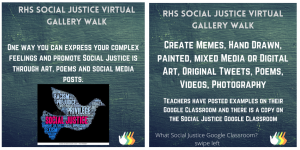 ---
Fund Our Schools
The economic recession resulting from the COVID-19 pandemic is significantly impacting the School District of Philadelphia (SDP). #fundourschools
---
The Social Work and Counseling Team would like you to know that we are doing what we can to ensure that our Roxborough families are safe, during this trying time.  While our ability to provide support has been limited to phone and email contact, we are still available to you. More Info in the Blog click HERE.
Philly HopeLine is a free helpline sponsored by Uplift Center for Grieving Children and the School District of Philadelphia. It is staffed by Masters's level clinicians from Uplift, and is open to all School District of Philadelphia students & families. Service is available in both English and Spanish.
Hours of Operation:  Monday – Friday: 12 p.m. – 9 p.m.
Holidays, Saturdays, and Sundays: 12 p.m. – 4 p.m.
Call or Text 833-PHL-HOPE
(833-745-4673) or CLICK HERE
Project ELECT and COVID-19
If your children need Health Insurance, either because they never had it or because your benefits have changed during the COVID crisis, our partners at PCCY can help you apply.  Medical Benefits Help
Need working papers? CLICK HERE
Limited hours and times and increased safety protocols apply.
---

Family Academy is Now Virtual!  We are here to help families and students be successful.
Learn more about our online FACT course offerings here.
---
Roxborough was also honored to be recognized for receiving National Model Status for their Academy of Health Sciences & Research and received the Jeffery N. Stein Award for best transition for an Urban High School to the Academy Model.
Roxborough was also honored with the Henk Koning Exemplary Partnership Award for Mr. Steve Rauscher our Academy of Health Sciences & Research partner for exemplifying a true working partnership.  Read more in the Blog.
---
Parent Website: https://sites.google.com/view/rhs-home-school-association/home
Parent Facebook Page: https://www.facebook.com/groups/151623331635048/
Follow Us on Twitter: @Roxborough_HSA
Follow us on Instagram: AcademiesatRoxborough
---
NCAC Announces that The Academy of Health Sciences and Research at Roxborough High School Has Achieved National Model Status!
Read more in our Blog.
---
Pedro A. Rivera Secretary of Education for Pennsylvania visited the Academies @ Roxborough on Friday, February 9, 2018.  Read more about his visit in our Blog.
---
2017 Volunteers of the Year for the Roxborough YMCA
Students from the Academies @ Roxborough will be recognized at the Philadelphia Freedom Valley YMCA Annual Meeting alongside the other Volunteers from across our association on April 6, 2018.  Read more in our blog and check out the Video below.